Data breaches tied to credit and debit cards accounted for more than 25 percent of all breaches in 2011, according to a new report.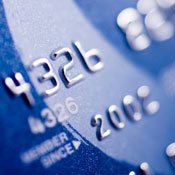 Breach numbers overall have declined, with breaches in the financial-services sector accounting for less than 4 percent of all breaches. While, from 2010 to 2011, the financial sector saw losses linked to debit and credit compromises drop from 18.6 percent to 1.6 percent, merchants and businesses saw jumps in debit and credit losses, from 4.3 percent in 2010 to 12.9 percent in 2011.
Read the full article
.